Source - The Fiji Times
Help for hospitals
ABOUT $80,000 worth of medical equipment has been given to the people of Vanua Levu to use at the Labasa and Savusavu hospitals.
Given by the Friends of Fiji Health team from New Zealand, the equipment include wheelchairs, walkers, crutches, medication and other apparatus for emergency cases and hospital wards.
Group trustee Rajesh Chaudhary said this was the second visit to the North.
"Our donation first came last year with another group and we didn't come to the North but stayed in Viti Levu," he said.
"This year, we travelled here because we thought remote areas such as this would need it more."
Labasa Hospital board of visitors chairman Ami Kohli said the gift was of great assistance to the hospital and the people of Labasa.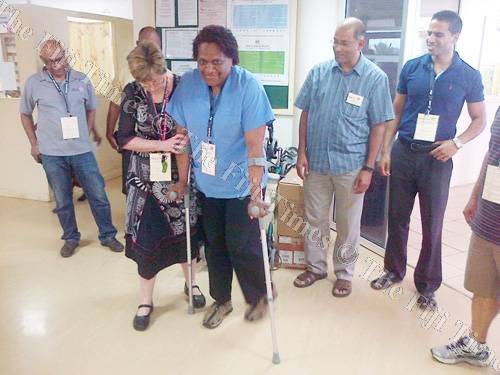 Click on an image below to view the enlargement...
14th October to 18th October 2013 inclusive
Our pre mission Objectives were:
A) Service delivery: conducting Endoscopies and colonoscopies(Upper GI and Lower GI), Specialised medical clinics both doctor and nurse based plus MDT based (Multidisciplinary), Conjoint teaching, ward rounds plus Grand rounds, Conducting Mini Workshops on a variety of problem oriented medical co-morbidities ( see below under capacity building).
B) Qualitative aspects: Teaching: lecture series/practical teaching, both didactic and hands on (Generic, Discipline specific, topics of interest and of concern locally). Target audience were - all involved in health care delivery, doctors, nurses, allied staff and assistants.
C) Capacity building: training/working along side local counter parts re upper and lower GI scopy, Updates / combined assessment / investigation / management of acute Cardiovascular (CVS) diseases – Acute Coronary syndromes including myocardial infarcts (MI) plus Transient Ischemic attacks (TIA) plus Strokes, investigation and management manual handling/transfers and , Swallowing assessment acutely post stroke- target audience was all health professionals plus patients and care givers.
D) Net working: Orchestrating /establishing/consolidating links with all stake Holders
Read more: Medical/Gastroenterology Mission brief to Labasa and Savusavu